4 Sunscreens You Can Reapply on Top of Makeup
Any dermatologist will tell you that you need to reapply sunscreen every two hours to protect your skin. Anyone who has ever worn makeup will tell you that slathering Coppertone on top of makeup is a hot mess. What you need is sunscreen that works on top of makeup, without sending off Heath Ledger/Joker vibes. The good news? It exists! And you can find it at almost any Sephora or Ulta. Click on any of the images below to shop our picks.
Setting Sprays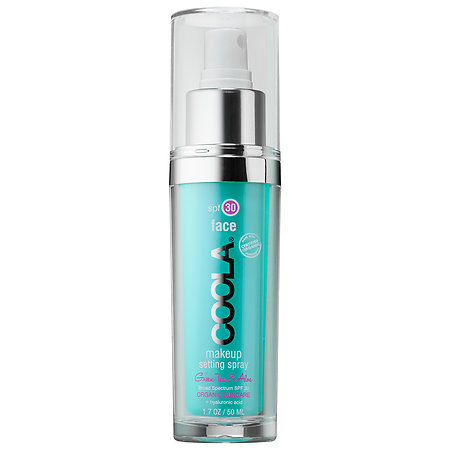 Coola Makeup Setting Spray, $36
Setting spray is designed to keep your makeup in place, which comes in handy if you're hitting up a warm climate. (LA. Vegas. Miami. Anywhere that's not San Francisco.) Coola's Makeup Setting Spray ($36) is a beauty editor favorite. Yes, the SPF 30 formula shields you from the sun, but it also cools, soothes, and refreshes skin thanks to ingredients like aloe and cucumber. Bonus: because it includes hyaluronic acid, it will soften, tone, and rehydrate skin. If you're shopping IRL, you can almost always find this spray at Sephora or Ulta.
Supergoop! Defense Refresh Setting Mist, $12-28
For even stronger UV-blocking goodness, try Supergoop! Defense Refresh Setting Mist ($28). This version is SPF 50, and it has rosemary and mint extracts to both soothe your skin and make you smell like the best summer salad. In addition to preventing sunburn, the spray also controls oil, reduces shine, and keeps your makeup looking flawless. Supergoop makes this in a one-ounce size, as well, which is more practical for hauling in your bag when you're spending the day outdoors. If you like your sunscreen in a pretty container, try this Supergoop! x Rebecca Taylor version.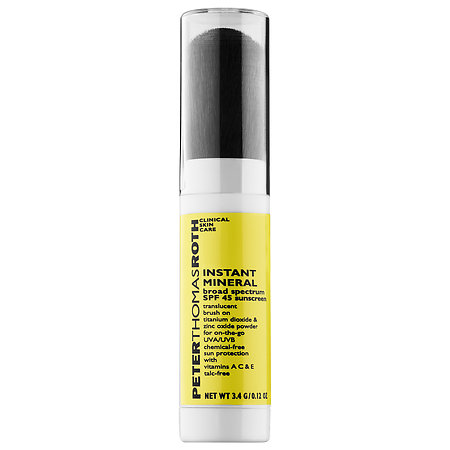 Peter Thomas Roth Instant Mineral, $30
Wwe have a lot of feels for Peter Thomas Roth. It's one of those beauty brands that doesn't get enough love, but the products are really, really good. Case in point: SPF mineral powders.
For a long time, the standard beauty rec for mineral powder was PTR's Oily Problem Skin Instant Mineral Powder. It's an all-in-one brush and powder, so it's really easy to keep in your bag. It's talc-free, and SPF 30. We've used it, we love it. What we love even more is more SPF. (Your face doesn't want sun damage.) For more UV-fighting power, we prefer PTR's Instant Mineral SPF 45 ($30). Downside: you can't clean the brushes on these powders, which is a little icky.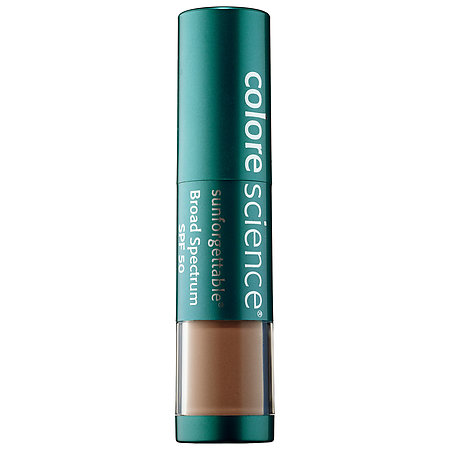 Colorscience Sunforgettable Loose Mineral Sunscreen Brush, $65
If you're looking for a tinted powder, say hello to Colorscience's SPF 50 Sunforgettable Brush. Let's get one thing out of the way: it's expensive. But if you're really wearing makeup—think outdoor summer wedding—it's a good option. Colorscience claims this water-resistant powder sunscreen is good for all-day protection, remember that experts still recommend reapplying SPF every two hours. If you like a feel-good element with your makeup purchases, a portion of proceeds from every Sunforgettable Brush goes to Sunstoppable to help fight against skin cancer.
This post contains affiliate links. If you make a purchase through one of these links, Rockyt will receive a small fee.