Take 10 To Get Lost in Academy of Art's Fashion Show Dreaminess
It's not easy to make it in the fashion world. Thousands of aspiring designers graduate from design programs every year, and most of them will never become household names like Stella McCartney or Marc Jacobs. That's one of the reasons why graduation fashion shows are worthwhile. They're a raw escape. For a fleeting moment, you get to imagine what the fashion world could be if practicality and commercial viability weren't concerns.
Below, we're sharing all the outfits that walked the runway at Academy of Art University's spring graduation fashion show. The complete looks include textile design, apparel design, and styling, all from San Francisco students. There's everything from bold, wearable knits (Julie Eunju Kim) to Richard Serra-inspired architectural pieces (Zhouyi Li).
If you see a look that you're dying to purchase, ping us, and we'll connect you with the right people. Who knows? Maybe one of these young designers will be the next Alexander Wang or Phoebe Philo or Iris Van Herpen, and you can say you knew them when.
Digital Print and Design Collaborative Collection
A collaborative collection created by students who used digitally-printed fabrics designed by BFA Textile Design student Mario Chinchilla. The combination of a feeling of 'being incognito' and the challenge to 'be true to ourselves' represent the dualism between emptiness and fulfillment, distortion and clarity. Chinchilla's cinematographic digital prints were transformed into a womenswear collection by MFA Fashion Design students Diane Dickey, Danni Huang, Shamonica Jones, Qiaochu Li, Xiaomo Liu, Muhamad Ahsan Nazir, Chenqi Xie and Meijun Lu.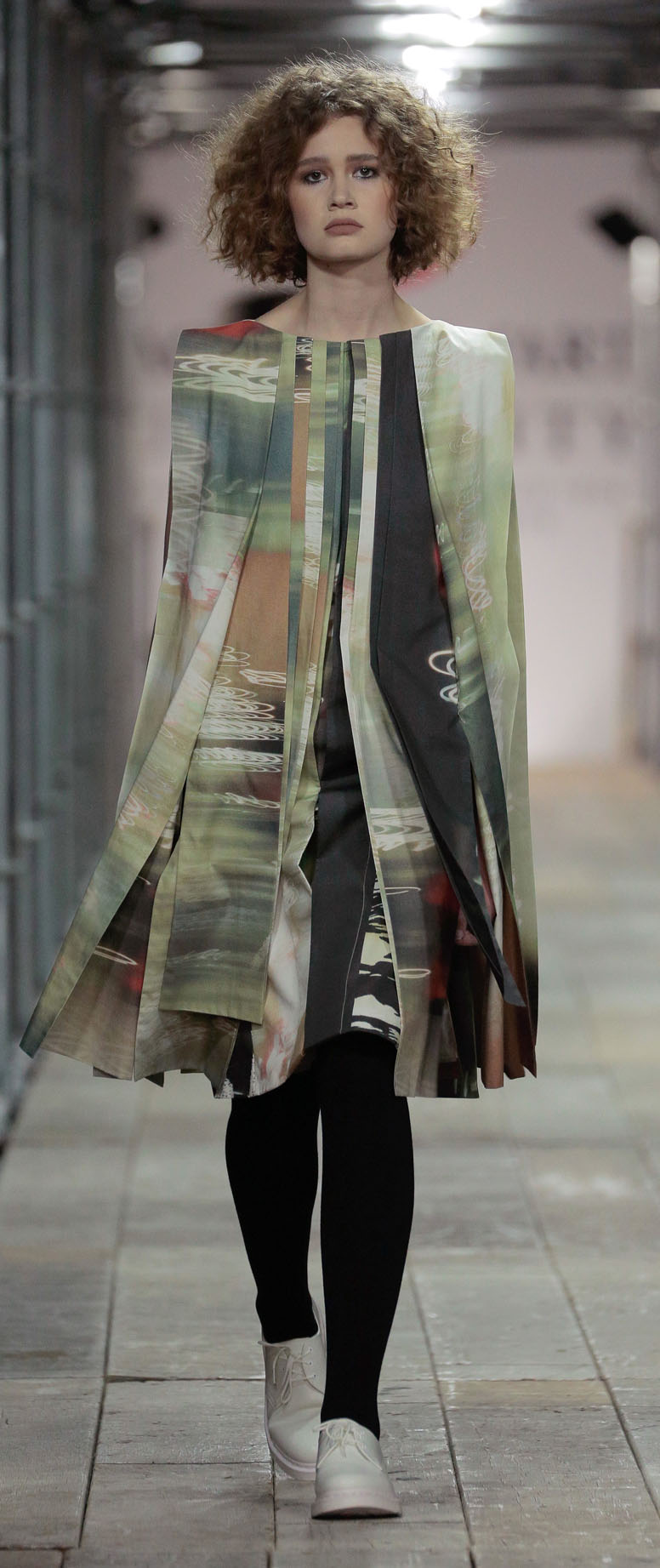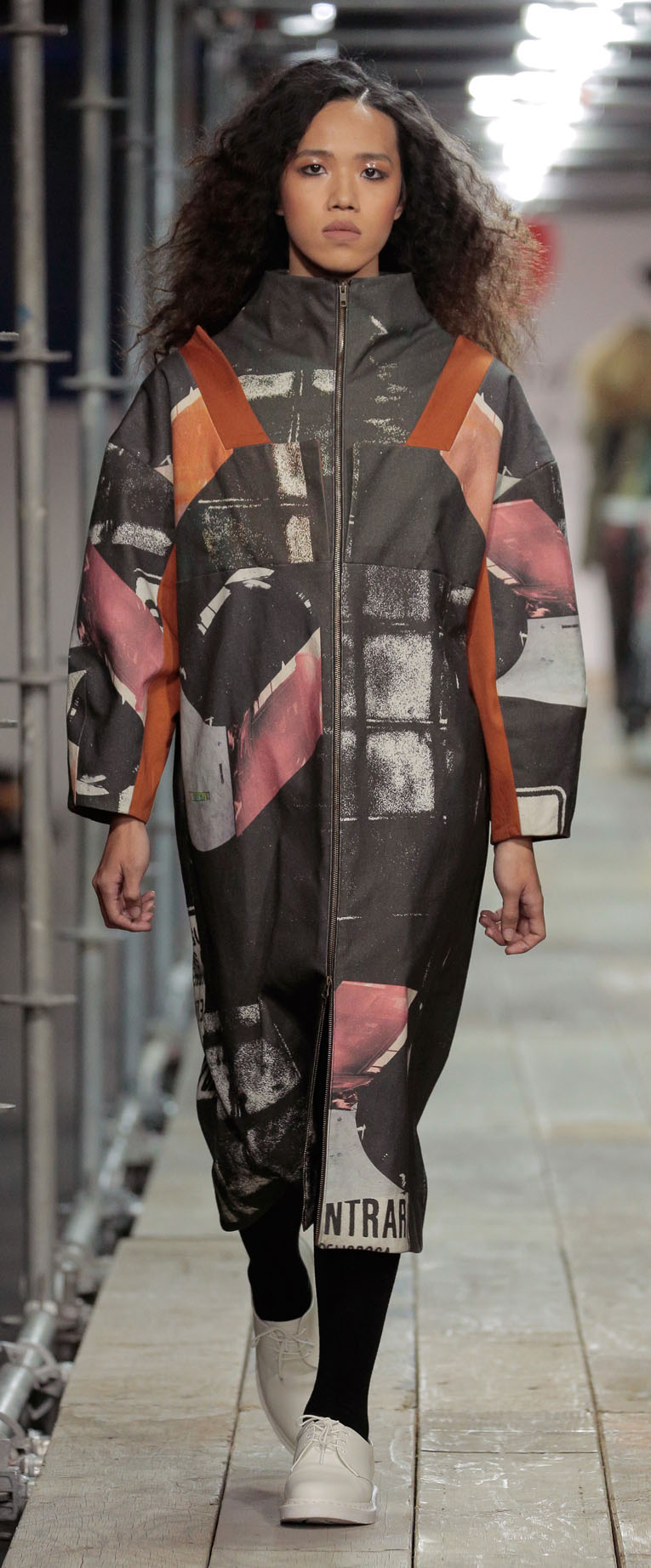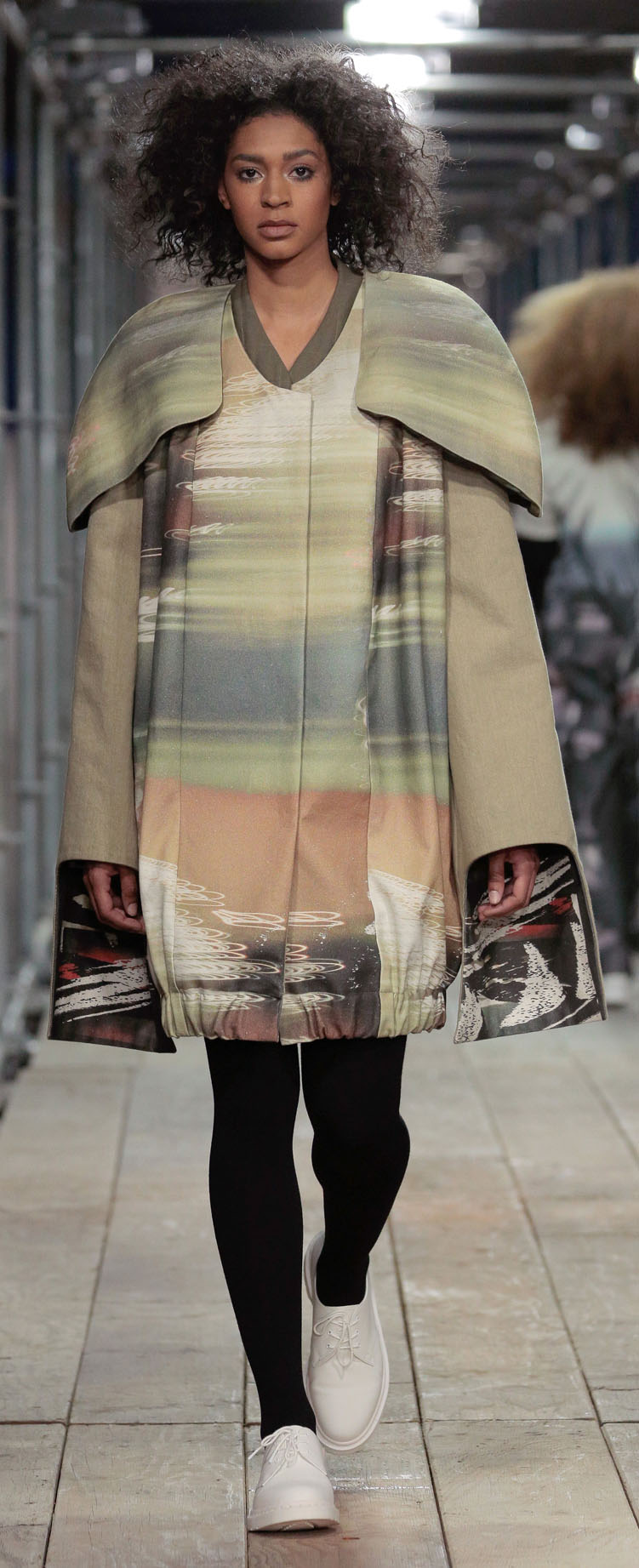 Julie Eunju Kim
Kim's collection is inspired by her favorite abstraction artist, Paul Klee, and his play with shapes and colors. The entire collection was created using fine Italian yarns to which Kim applied her own experimentation, as well as weaving methods and traditional knitting, to create
distinctive silhouettes.
Brianna Toomer
Inspired by the strength of women during WWII, Toomer created "Nobody's Housewife" to be the balance between masculinity and femininity through soft, sporty tailoring. It juxtaposes the silhouettes of women and men from that era and introduces an athletic twist with zippers replacing seam lines and exposed side seams with multi-layer bias binding.
Susan Zienty
Zienty's inspiration for "Anti-dress" was a clash between the etiquette of the past and the standards of the future as well as dressing for oneself.
Fashion Design and Textile Design Collaboration
Designer Sam Shan's childrenswear collection was inspired by the playful colors and whimsical shapes found in the work of artist Paul Klee. Marisa Chentakul's aim was to challenge the textile side of childrenswear for this collection. She designed refined and unique repeats, and engineered prints with children's ink stamping, playful images, and collages of daring colors and textures.
Stefanie Jessica
Jessica's collection derives inspiration from anxiety, tailoring and asymmetrical shapes. To underscore the concept of tailoring, she used wool as the main material, cotton, organza, and surprisingly adds bubble wrap to provide contrast.
Fashion Design and Knitwear Design Collab
Zixuan (Stella) Quan's inspiration is drawn from the historical importance of her home city, Xi'an, as the starting point of the Silk Road, and home of the ancient Terracotta Warriors. Quan aimed to create a collection that combines classic, historical armor with modern fashion. Lulu Hui-Ju Tsai said her inspiration for her knitwear collection is the 'concrete jungle' of the financial district in New York City.
Luis Guillen G.
Luis Guillen G. wanted to create a collection to empower men and their feminine side. He was inspired by the gay subculture of pups—cub is to bear as pup is to wolf—and the 18th century romantic period which created a shift in the style of men's clothing. Embroideries for this collection were created by Anastasia Smith and Christina Cundari.
Fashion Design and Textile Design Collaboration
Uchechi Anigbogu's collection was inspired by the past, through personal and impersonal experiences; and, in a colorful way, such as her grandmother's style, the designer's African roots, and American style in the 1950s. The collection utilizes vibrant Ankara print fabrics that her grandmother had, as well as fabrics that were purchased on a recent trip back to Nigeria.
Jie Ren textile design draws inspiration from an 'East meets West' cultural fusion and focuses on provocative shapes. Ren manipulated the original Ankara print fabrics by changing some of the original colors and by applying his own prints over the original ones to create new prints.
Minghan "Rosemary" Xue
Xue describes the inspiration of her collection as "...a story, a transition, where the globally recognized 'Made in China' label becomes the 'Designed in China' label." Xue experimented with different kinds of fabrics, repositioning garments and repurposing material to create new textures and patterns. (Knots and embroideries for the collection were created by Mojtaba Katiraei.)
Fashion Design and Textile Design Collaboration
Apparel designer Denise Ramos drew inspiration from trips to Savile Row and to Girona, Spain. For this collaborative collection, Ramos included traditional men's tailoring techniques and created a strong silhouette based on the powerful female characters portrayed on Game of Thrones. Jorge Iglesias's textiles were designed to represent "the armor that a woman wears day-to-day while growing older beautifully and gracefully knowing that she does not need to look like a man in order to feel confident." He used gold leaf foil to apply pulled threads on repurposed denim for his textile designs.
Justin Ho
Ho's menswear collection was inspired by the crackled paint from artworks of Gerhard Richter, along with the images and texture of wasted wires. As a designer, Ho translates classic
menswear into minimalist contemporary design by combining tailored garments with oversized, draping silhouettes.
Jeannifer Tirtamarta
For her collection, Tirtamarta was inspired by the gritty construction areas and the streets of San Francisco. Continuous seam lines and the geometric shapes of her silhouettes reference the on-going building of structures around her. In addition to cotton canvas and denim, Tirtamarta
used recycled billboard tarp as the main material for her garments.

Fashion Design and Textile Design Collaboration
Apparel designer Hanh Nguyen drew inspiration from the work of two abstract artists thus combining two seemingly opposite aesthetics, minimalism and maximalism. Nguyen used organic cotton in canvas, twill, and organdy for her womenswear designs, and referenced Paul Kremer's minimalist Color Field paintings for the silhouette. For her jewelry, she used heat to soften and shape straight acrylic rods into curvy designs, inspired by the bursting colors and large shapes of maximalism artist Trudy Benson.
Textile designer Emily McCarty drew inspiration for her print collection while listening to King Krule's album The Ooz. She wanted to "construct a visual ode to modern art, with a hint of satire." The collection became a physical representation of how McCarty sees a theme of balance between harmony and chaos in the modern art world.


Jerry Lee
Lee's collection reflects his nostalgia for his home country of South Korea and memories of his family. Lee used stiff fabrics to create volume which represents an element of traditional Korean clothing and the clean lines of Korean architecture. He also referenced old family photographs for inspiration and mimicked some of the silhouettes and draping of the clothing worn by his
relatives.
McKaela Christenson
Christenson, a knitwear design, was inspired by gestures, body movement, and the fluidity of the human form, as well as the organic shapes of hand-formed pottery by dancer and artist Paulus Berensohn. She used 3D knits to create volume and shape, and implemented a zero-waste process in creating her collection.
Felix Ryan
Ryan's collection is inspired by his personal sleeping patterns—nightmares, sleep paralysis, and hallucinations. The digital prints he created reflect the unconscious and organic body movements while a person sleeps and dreams, while his silhouettes are based on hallucinations during sleep paralysis. His collection highlights both masculine and feminine design elements, as well as the eeriness of nightmares.
Zhouyi Li
For her collection, Li drew inspiration from Richard Serra's sculptures, building simple and clean 3D shapes that appear to be slicing through the body. The enhanced colors are digitally printed on to the wool fabric.